You Have Been Invited to Attend a Most Whimsical Event.
Please Sign Up for One of Our Limited Guest Spots.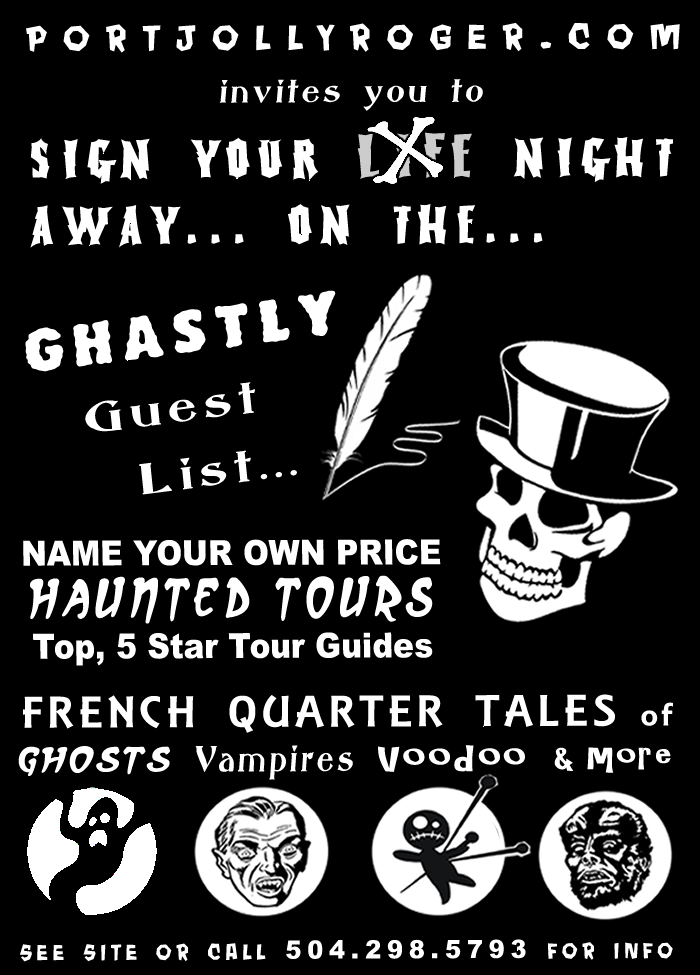 This "All in One" super-tour delivers all of the most popular New Orleans Haunted Walking Tour themes such as Ghosts, Vampires, Voodoo, True Crime & More!  Hey, and for all of you history buffs, there are plenty of French Quarter facts as well.  Often Tinged with a Good Dose of Humor. Always Bone-Chilling! Educational yet Highly Entertaining as well.  Done by licensed guides with a passion for historic story telling. This is one tour you do not want to miss!
What Is a "Name Your Own Price" or "Flexi-Priced" Tour?
It seems that Haunted Tours these days have become more than just a novel vacation pass-time. With so much creativity amongst guides, some have moved more into the realm of an all-out Vanguard type of Street Theatre. Many of these demand a pretty high market price as well. Sometimes as much as $30 per ticket. Once in a while you might find them as low $15... $10 or simply by donation. However these are often quite abbreviated or done by less experienced guides, who are just starting out.
In the Spirit of helping out our Fellow Travelers & Mis-Adventurers, we make it Our Mission to give you the Best & the Brightest Tour Guides New Orleans has to Offer at a price that you can afford and can set yourself. We have developed this Unique Sliding Scale Tour to help you make the most out of your Vacation Budget. We make it possible for you to pay as low as the lowest market price (as low $15 per person) or donate the top market price (generally as high as $30 per person) in cases when you really love your guide or can afford to be more generous.
NOLA's Most Dedicated Historic Story Tellers are Ready to Go!
8PM Monday, Wednesday, Friday, & Saturday
Please arrive 10 to 15 minutes prior.
Meets in Front of the Cabildo Museum in Jackson Square
When facing St. Louis Cathedral (with the River to Your Back) it is the Museum to the Left of it. Look for Guide to the right side of museum (between Chartres & Pirate's Alley) and holding a "Port Jolly Roger" sign.
TO FURTHER CLAIFY:
Not the tour that meets/leaves from in front of St. Louis Cathedral
Is the tour that meets/leaves to the left of the Cathedral (in Front of the Cabildo).
This Map Shows a Rough Estimate. Look for your Guide a little to the Left of the Map Marker, to the Right Corner/Front of Museum.
Please note: at these prices the $6.17 reservation fee/deposit is non-refundable.*
Please be sure you are picking a date that you can keep.

Cash Preferred for remaining payment.**
*Deposit Refunds only issued when we do not go out due to the most extreme weather.
** Cash Preference is in case the guides card reader is not operative.
Comfy Walking Shoes, Bottled Water, Sunscreen & Umbrella/Parasol are always Good Ideas.
For More Info Call: 504 298-5793
This number does NOT take or send texts