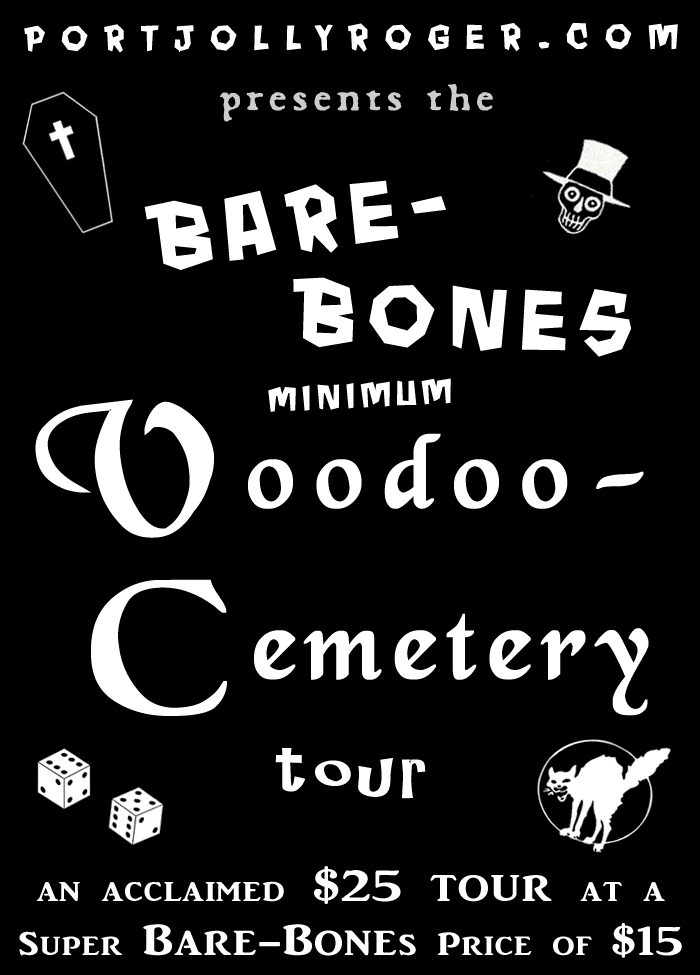 One of the most sought after activities when visiting our city is a visit to our world famous above-ground cemeteries (AKA Cities of the Dead), to learn about their unique architecture & about our most interesting historic figures that are entombed there. Yet another such activity is to learn about the true origins and legends behind Voodoo, a unique world religion that has many of its roots in this area.  A good percentage of the day tours in the area focus on both of these topics. We are proud to do the same with top-notch, five star guides, yet at a fraction of the cost that you might pay to other tour companies in the region.
The Bare-Bones Minimum Voodoo - Cemetery Tour includes All of This and More! Unfortunately, due to certain restrictions to both the tour companies and visitors, imposed by the cemeteries themselves, you will not ever see such tours given away at no charge or simply for a donation as you will with other Haunted Tours sometimes on this site. However, due to a special association with a top notch tour company who is also dedicated to educating the public on our unique history, we are now able to offer you such a tour at a super discounted, bare-bones price when you use our unique discount code (bare-bones) on their site. In short, you will be getting a tour usually priced at $25 per ticket at the bare-bones price of $15 per ticket. Like other tours on this site, you can rest assured that you will be getting a tour conducted only by guides who are dedicated to teaching the authentic history of our city, who have a love for historic telling. Also, in this case, they are actually members of our cemetery's preservation societies as well. 
We hope that this helps you to join us on this event and to see you soon. 
BOOK NOW!  USE DISCOUNT CODE: bare-bones . SPOTS ARE LIMITED.
REMEMBER to USE DISCOUNT CODE: bare-bones
Please also remember that it gets hot out there and that there is often some walking to do. Feel free to bring sun-block, bottled water, comfortable walking shoes and even and umbrella or parasol as needed. Have a great tour!